PIBW – business partner
The Polish Chamber of Business in Italy, based in Bologna, is a non-profit organisation which was established on 7 July 2020. The initiative of Polish professionals and entrepreneurs, professionally connected with Italy for years, contributed to its creation. It has a nationwide character – it builds branches in individual regions of Poland and Italy. Its main objective is to promote Poland – both as a country and a brand, and to consolidate the economic activity of Poles and Italians, by creating contacts and building strong business relations between its members, investors and companies from all over the world.
The Chamber brings together Polish communities and families residing in Italy, as well as business and artistic circles. It also puts emphasis on the development of cultural and social activities. Membership in the organisation enables you to actively build an international network and benefit from the long-standing experience of members, experts and the Board.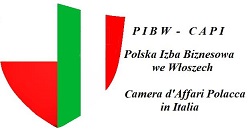 Currently, PIBW is in the process of establishing contacts and running projects with Chambers all over the world and developing a rich programme of business and cultural events, as well as B2B meetings, workshops and conferences.
For more information visit: www.capiplit.eu